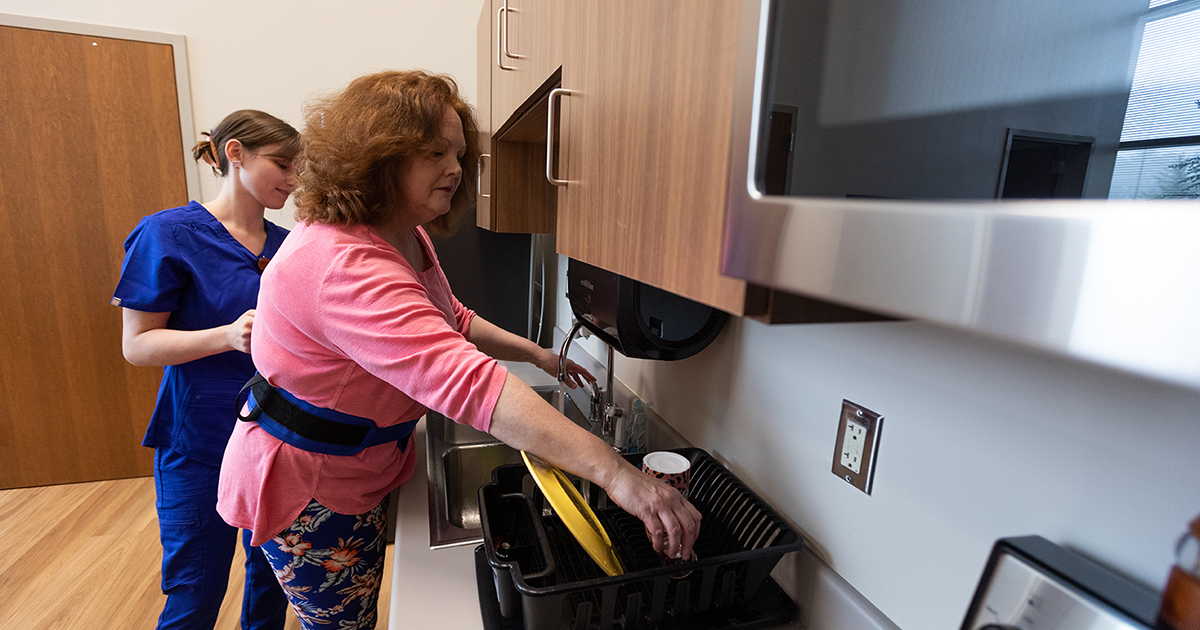 App State Announces New Masters in Occupational Therapy
BOONE, NC — Starting in the fall of 2024, Appalachian State University's new Master of Science in Occupational Therapy (OT) program will help address a critical shortage of occupational therapists in western North Carolina.
The program, which will be offered by the new Department of Rehabilitation Sciences at Beaver College of Health Sciences, received approval from the University of North Carolina System Board of Governors in April.
"This program will not only help meet critical rural health care needs," said App State Chancellor Sheri Everts, "but it will also help ensure that students who live in North Carolina and wish to be occupational therapists can receive a cost-effective. a master's degree that will allow them to live, work and practice in our state.
Occupational therapists provide specialized care to restore physical and cognitive function and improve quality of life for children and adults with autism, dementia, developmental disabilities or those who may be recovering from surgery, a stroke or injury. As part of an interprofessional health care team, occupational therapists work in a variety of settings, including hospitals, rehabilitation centers, skilled nursing facilities, home care, schools, and private practices.
"There is a critical need for occupational therapists, especially to care for patients in rural areas such as western North Carolina," said App State Provost and Executive Vice Chancellor Heather Hulburt Norris. "Our program will be the first public university master's program in occupational therapy in this region. »
The new program aims to prepare students to become certified occupational therapists in North Carolina, where hundreds of occupational therapy job openings were available as of this spring, according to Indeed.com. Currently, only three public universities in the state offer a full entry-level clinical degree in OT, producing approximately 70-80 graduates per year, combined.
The degree program is designed to be cost-effective, allowing students to graduate in six semesters or 66 credit hours. The program will meet the rigorous accreditation requirements of the American Council for Occupational Therapy Education.
"This program expands professional health care education opportunities for students who choose App State," said Dr. Marie Huff, Dean of Beaver College of Health Sciences. "We will place students in clinical rotations here in western North Carolina. We want students to integrate into our communities, if they are not already part of them, and we want them to stay here because we need them here.
Nearly three-quarters of App State's approximately 142,000 living alumni live and work in North Carolina, contributing to the state's economic growth and quality of life.
Dr. Gary McCullough, associate dean for research and higher education at Beaver College of Health Sciences and executive director of the Blue Cross NC Institute for Health and Human Services, noted that understanding and appreciating the rural populations served by the program. .
"Learning to work effectively with rural people is key to helping clients improve their functioning in their particular home and work environment, which is different from the environment of individuals in large cities with better access to facilities and services" , McCullough said.
About App State's Occupational Therapy Masters Program
Applications for the program's first cohort will open in the fall of 2023. The new program will be housed in the Levine Hall of Health Sciences, a five-story, 203,000-square-foot facility located in the Boone Wellness District. The OT program will utilize two state-of-the-art specialized training labs in addition to classrooms.
During clinical rotations, occupational therapy students will be able to provide services to clients visiting outpatient clinics operated by the university's Blue Cross NC Institute for Health and Human Services. The Levine Hall Outpatient Clinic features a mock apartment, providing occupational therapists the opportunity to work with patients as they practice their functional skills in a home-like environment.
Faculty and staff will supervise occupational therapy students in their areas of expertise, and "our occupational therapy students will have the opportunity to assess and treat clients in collaboration with students in speech-language pathology, nutrition, social work and more," McCullough explained. "This type of interprofessional education opportunity is critical to their future success."
In addition to clinics, Beaver College of Health Sciences has secured collaborations for clinical rotations with regional healthcare providers Appalachian Regional Healthcare System and Novant Health, as well as schools in Watauga County.
The master's program in occupational therapy will become the eighth graduate program offered by Beaver College of Health Sciences, joining the master's programs in athletic training, exercise science, health administration, nursing, nutrition, social work and speech therapy.
What do you think?
Share your comments on this story.
About Beaver College of Health Sciences
The Beaver College of Health Sciences (BCHS) at Appalachian State University, opened in 2010, is transforming the health and quality of life of the communities it serves through interprofessional collaboration and innovation in teaching, learning, and health. scholarship, services and clinical outreach. BCHS offers nine undergraduate degree programs and seven graduate degree programs, which are organized into six departments: Communication Sciences and Disorders; Health and Exercise Sciences; Feeding with milk; nutrition and health care management; leisure management and physical education; and social work. The college's academic programs are located at the Holmes Convocation Center on App State's main campus and at the Leon Levine Hall of Health Sciences, a 203,000 square foot state-of-the-art facility that is the cornerstone of the Wellness District. Additionally, the college supports the Blue Cross NC Institute for Health and Human Services and maintains collaborative partnerships with the Physician Assistant Program at Wake Forest School of Medicine, the Appalachian Regional Health System, and many other organizations in health. Learn more at https://healthsciences.appstate.edu.
About Appalachian State University
As the Southeast's premier public undergraduate institution, Appalachian State University prepares students to lead meaningful lives as global citizens who understand and take responsibility for creating a sustainable future for all. The Appalachian Experience promotes a spirit of inclusion that brings people together in inspiring ways to gain and create knowledge, to grow holistically, to act with passion and purpose, and to embrace diversity and difference. Located in the Blue Ridge Mountains, Appalachian is one of 17 campuses in the University of North Carolina system. Appalachia is home to nearly 21,000 students, has a low student-faculty ratio, and offers more than 150 undergraduate and graduate majors.