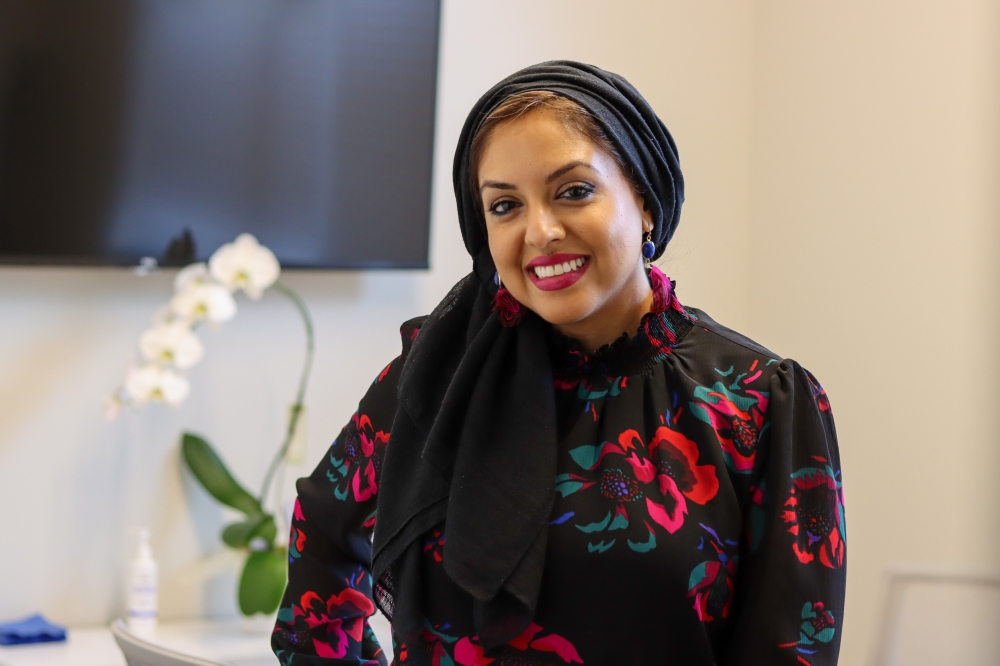 Be In Health Foundation addresses health equity at Frisco ISD
Sadaf Haq founded the Be In Health Foundation in Frisco. (Grant Johnson/Community Impact Journal)
More than a dozen area organizations distribute food, clothing and other necessities to Frisco residents. But many struggling residents cannot access primary health care due to the financial burden. Frisco resident Sadaf Haq founded the Be In Health Foundation in March to fill that gap specifically for the children of Frisco ISD.
"Basic health care is essential to ensure a child can learn and succeed," Haq said.
According to the US Department of Health and Human Services, one in 10 Americans does not have health insurance. While that might seem like a small number of people, Haq said the demand for free, low-cost health care in Frisco is bigger than people realize.
"We have organizations in Dallas that are helping us, but nothing in the Frisco area, and I think a lot of that is because people don't want to accept that we have these inadequacies or shortcomings," Haq said. .
The Be In Health Foundation focuses its efforts on providing health care to children in the community. Haq earned a master's degree in public health from the State University of New York at Albany and has worked on public health initiatives with the New York State Department of Health and Humana Inc. Haq has used his public health knowledge alongside its board of directors, which features several active and retired city officials, to launch the pilot program.
The program focuses on select Frisco ISD schools. The foundation partners with counseling services in schools to identify students with health care needs. The Be In Health Foundation relies on a network of health professionals to pair the student with the doctor. While Haq considers the pilot program successful so far, she noted that the program slowed down at the end of the school year. Haq said she hopes the foundation can expand to help families, but wants to make sure the foundation doesn't overwork itself.
To provide health services, health professionals become partners of the organization. Haq said she finds "professionals who have a heart for charity" and partners with them to offer their services for free or at a reduced rate. If there is a financial burden, the Be In Health Foundation works to take care of it. The foundation works with a local pharmacy to obtain prescriptions at cost.
"There are so many things that people don't realize," Haq said. "I think deep down, for me, I just want to help…those who are underrepresented."