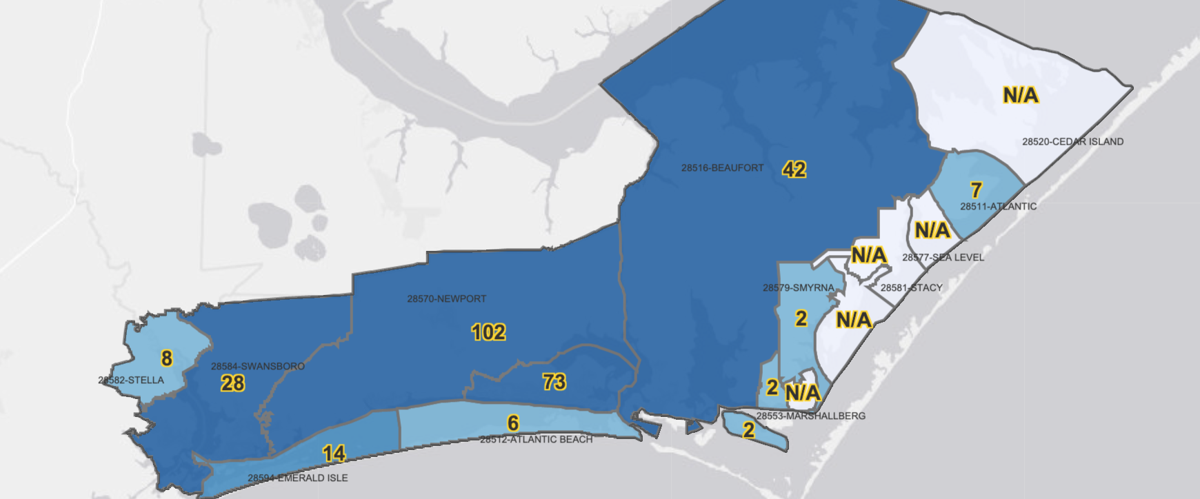 Carteret health authorities confirm 107 more cases of COVID-19 on Tuesday | New
CARTERET COUNTY – Carteret County health officials reported 107 new cases of COVID-19 on Tuesday, another large single-day increase as the latest wave continues.
According to Tuesday's update from the county health department, Carteret County has reported 83 other active cases, from the 213 reported on Monday to 296. Since the pandemic began in March 2020, the county has confirmed 6,615 cases of COVID-19, the disease caused by the coronavirus.
Newport's area code, 28570, continues to dominate the county in most active cases at 102.
COVID-related hospitalizations remain unchanged from Monday, when 18 people were held for treatment at Carteret Health Care in Morehead City. Of these, health officials report that two are fully vaccinated and 16 are not.
Those 18 people are among 3,612 people hospitalized statewide for COVID-19 on Tuesday, according to the North Carolina Department of Health Human Services. Hospitalizations have continued to increase since the end of July. Last week, Carteret Health Care officials reported they had set up an ICU overflow area as admissions continue.
Carteret County officials reported on Monday two deaths from COVID, including one in his 50s without underlying health problems. No additional deaths were reported on Tuesday, leaving the death toll at 64.
The county's percentage of positive tests of the total is 12.3%, lower than the state's rate of 14.6%.
Health officials continue to stress the importance of safety measures, including frequent hand washing, wearing a mask in public spaces and maintaining a physical distance from others.
The free COVID-19 vaccine is readily available. To make an appointment with the health service, dial 252-728-8550, option 2. You can also make an appointment online by visiting myspot.nc.gov.