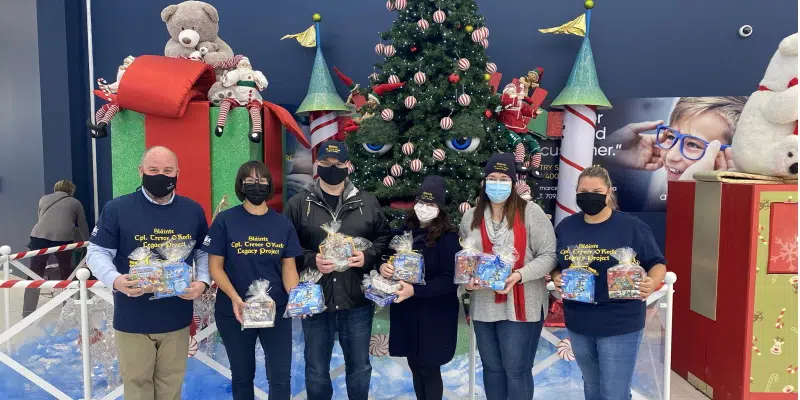 Family and friends of RCMP Corporal Trevor O'Keefe donate to Happy Tree in his memory
The family and friends of a late RCMP corporal honor him with a gift he would be proud of.
Corporal Trevor O'Keefe died in September 2017, following a silent battle with PTSD.
His death sparked a conversation about its effects among first responders.
O'Keefe's sister, Tracy, says that the next day her friends and family came together to continue her legacy of donation, with a focus on mental health initiatives and community needs.
Sláinte, good health – Cpl. Trevor O'Keefe Legacy Project, donated $ 500 of Legos to the Avalon / VOCM Happy Tree Mall in his memory.
When asked why Legos, Tracy explained it as a tribute to her brother and the relationship he shared with his son.
She says since Trevor was a boy he liked to work with his hands, with army characters and things like that.
Trevor's son Liam was also a huge Lego fan, and it brought them great joy building them.
The project's biggest fundraiser is a walk that hasn't been able to take place in the past two years due to the pandemic.
However, O'Keefe's family and friends hope they can make it happen soon.
When asked what Trevor would think of the project, Tracy said he would appreciate any effort to give back to the community, especially those in difficulty.
"This is where her heart and her activities have always been", she says.
I'm at the Avalon Mall, where the family of late RCMP Corporal Trevor O'Keefe donated legos in his honor at the Happy Tree VOCM this morning. @VOCMNEWS @ 590VOCM pic.twitter.com/fhgN5raYZH

– Nick Ward (@NickWardVOCM) December 18, 2021