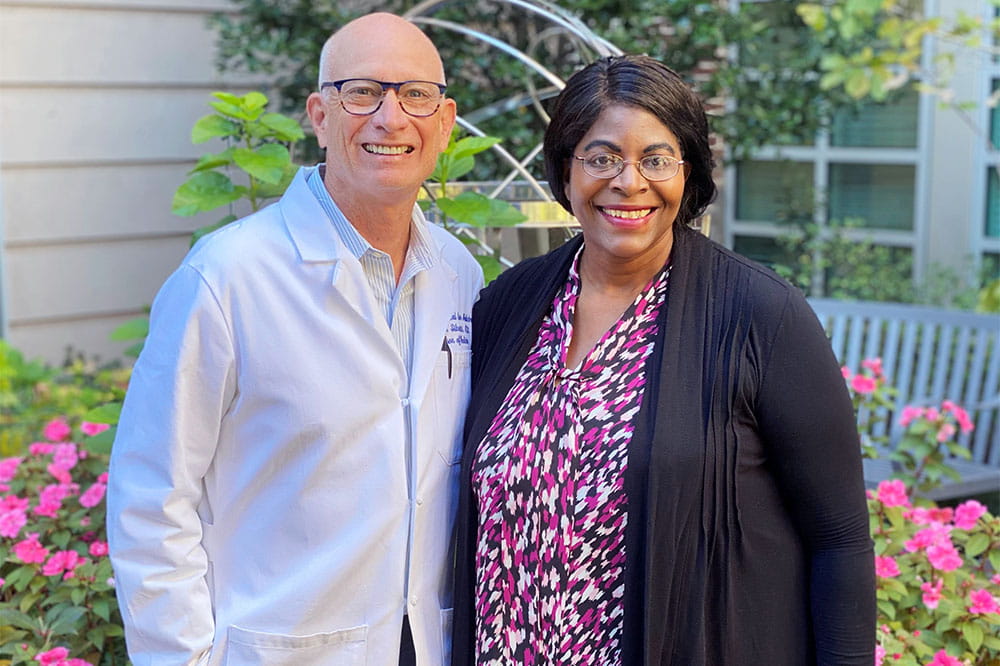 Hollings Cancer Center and New Southeastern Consortium for Lung Cancer Health Equity Receive $3 Million Stand Up to Cancer Grant | MUSK
MUSC Hollings Cancer Center received his first Stand Up Against Cancer (SU2C) grant that will integrate him into the Southeastern Consortium for Lung Cancer Health Equity (SC3), a group that will focus on why lung cancer continues to be a leading cause of death among racially and ethnically diverse populations from the country.
The four-year, $3 million grant will facilitate health disparities research and scientific collaborations between researchers at three National Cancer Institute-designated cancer centers and train the SU2C Lung Cancer Health Equity Research Team. The grant is made possible through the support of Bristol Myers Squibb and is part of SU2C Health Equity Initiative. The initiative focuses on increasing diversity in cancer clinical trials, launching advocacy group collaborations and awareness campaigns, and funding research aimed at improving cancer outcomes and rates. screening in medically underserved communities. In addition to Hollings, the team will also include the Massey Cancer Center at Virginia Commonwealth University and the Lineberger Comprehensive Cancer Center at the University of North Carolina at Chapel Hill.
Director of MUSC Hollings Cancer Center Raymond N. DuBois, MD, Ph.D., said he hopes this will be the first of many grants, and he looks forward to the expertise that researchers from the three NCI-designated centers will bring to help vulnerable minority populations. "SU2C funds and develops the newest and most promising cancer treatments to help patients today with the goal of accelerating the pace of new discovery by connecting top scientists in unique collaborations to create breakthroughs. This consortium does exactly that," he said.
"His overarching goal is to identify and overcome barriers to lung cancer screening and to develop more accurate strategies to identify those most at risk of developing lung cancer."
Lung cancer continues to be a leading cause of morbidity and mortality among racially and ethnically diverse populations in the United States, particularly for the Black/African American (AA) population. Lung cancer is the second most common cancer, but it is the leading cause of cancer death in black/AA and white men and women. From 2012 to 2017, the incidence rate of lung cancer was 18% higher in black/AA men than in white men, but 10% lower in black/AA women than in white women. Although trends in incidence disparity are reversing, black/AA people with lung cancer continue to have a more advanced stage of disease at diagnosis and lower survival rates than those with lung cancer. white people.
The consortium team leader is Robert Winn, MD, director of the Massey Cancer Center, and the co-team leader is Marvella Ford, Ph.D., associate director of population science and cancer disparities research at Hollings. Louise Henderson, Ph.D.; a cancer researcher at the Lineberger Comprehensive Cancer Center will serve as the team's principal investigator. SC3 will target lung cancer disparities among the Black/AA population using a novel "cell-to-society" approach. The consortium will create a sustainable infrastructure to collect relevant biological, clinical, individual and contextual data needed to increase lung cancer screenings. Additionally, researchers will develop more accurate methods to identify those most at risk for lung cancer diagnosis and/or poor treatment outcomes.
The consortium's two objectives relate to lung cancer screening and genetic risk markers. Figure provided
Ford said the team was carefully designed to combine basic scientists and population and behavioral scientists from each institution to create a highly translational, disparity-focused study. While some cancers don't have screening for early detection, lung cancer does, so the urgency is to catch cancer earlier and save lives.
"It's easy to talk about translational research, that is, research that leads to direct human benefit. It's much harder to operationalize it," Ford said. "There are different languages ​​in medical and scientific disciplines, and we need to learn to see through the same lens to find real solutions. This is where the term cell to society comes in. We have designed a truly translational project by combining basic science and community outreach approaches.
The project combines two different objectives. One is to test a navigational approach to lung cancer screening to tackle one of the potential barriers that could prevent people from getting screened. "Our previous work has shown that patient navigation can be a very effective strategy and can help meet the needs of our medically underserved patients. The second objective is very interesting because we will examine samples taken from people who have been screened and analyze them for genetic risk markers.
The basic science component of the grant at Hollings will be led by Gerard Silvestri, MD, Hollings researcher and pulmonologist specializing in lung cancer. His career has been dedicated to evaluating, managing and improving outcomes for lung cancer patients. All three states — North Carolina, South Carolina and Virginia — are in the tobacco belt, with high lung cancer rates and disparities, he said.
"No one has looked at genetic profiling specifically in underserved communities. What if we could find a cost-effective biomarker to show increased or reduced risk of lung cancer to better utilize cancer screening resources?"
— Dr Gerard Silvestri
One of the goals of the grant is to develop a population-based sample collection to search for novel lung cancer biomarkers. Ford said collaborating with community partners, such as the Fetter Health Care Network, allows researchers to reach underserved communities to ensure equal representation. Biomarkers are a tool doctors use to determine a patient's risk of developing a disease or a way to monitor disease.
"No one has looked at genetic profiling specifically in underserved communities. What if we could find a cost-effective biomarker to show increased or reduced risk of lung cancer to better utilize cancer screening resources?" asked Silvestri , adding that this new consortium is an invaluable result of the SU2C grant.
"We will share samples, resources and clinical data to make a meaningful difference in underserved communities. As a consortium, we will be able to apply for larger grants in the future than we could obtain if we worked alone. »
As NCI-designated cancer centers, all three centers report a high enrollment rate of underserved minorities in interventional trials, and both Hollings and Massey are part of an elite group of 14 centers across the country, each referred to as a Minority and Underserved NCORP Institutionan award given to institutions with a long track record of recruiting minorities for clinical trials.
Ford said it looks forward to the expertise the 13-member team will bring. The team includes early career investigators at each institution to ensure they train the next generation of cancer researchers with expertise in health disparities. Ultimately, the team plans to use the cell-to-society translational approach and lessons from the current project to address other cancer disparities.
Hollings has extensive expertise in lung cancer screening and depth in her research on health disparities. "I think this combination of factors makes us an attractive partner in this three-party consortium," Ford said. "I think it's important that states facing similar disparities come together to develop this consortium that gives us more leverage than we would have individually. We all face the same battle, but we can much better to carry it out together.