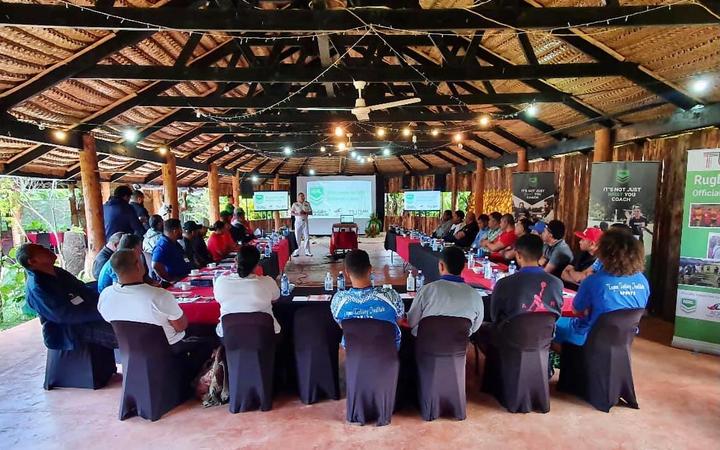 NRL virtual training programs focus on the Pacific
NRL Tonga's game development manager Tavake Fangupo hopes the training programs run virtually by the NRL and the Australian Defense Force will build confidence in coaches in the region.
More than 70 players, coaches and officials across the country took part in a five-day course to ensure participants are exposed to the game and other opportunities despite Covid-19.
This is the third virtual sports program that the NRL is offering virtually due to the pandemic, with sessions covering training, officiating, nutrition, first aid, CPR, strength and conditioning.
While a new rugby league governing body has yet to be created in Tonga, Fangupo said the courses are a great way to educate officials and provide opportunities for some of the smaller islands.
"We have three outer islands, Vava'u, Ha'apai and Eua. We are practically trying to involve those from the outer islands because they will probably never have that opportunity," he said.
"The coaches, referees and sports coaches here are able to translate this to local coaches or referees and sports coaches. [because there is] obviously the language barrier. "
"But the idea is to help coach and educate local coaches and it worked really well. Touch wood, my biggest concern was that we might have some issues with the internet, but we're lucky enough that this was not a problem. "
Initially, the lessons were aimed at the rugby league, but the long-term goal is for other sports to get involved as well, he added.
"We had netball joining us this year for the first time, it's normally just rugby league, but we contacted netball to see if they wanted to participate."
"A lot of them haven't experienced anything like this before, so it was pretty good for them to be a part of it. This is an ongoing partnership we have with Australian Defense, so we want to may other sports have this opportunity to join as well. "
NRL Pacific program manager Michael Asensio told NRL.com that an increase in the number of trained coaches will create positive role models in the region.
"An increase in the number of trained coaches will create positive role models and give Tongan participants the best chance to be exposed to the game and enjoy the many health and social benefits," he said.
"We are incredibly proud of the important work of the men and women of ADF and look forward to working together to achieve positive results for Tongan communities."
Australian Defense Forces Sports Cell Chief Executive Brigadier Phil Winter told the league's website that the partnership with the NRL has helped strengthen Australia's relationship with its Pacific neighbors.
"Sport offers a 'universal language' and Tonga's virtual program is designed to teach leadership, gender equality, respect, nutrition and a healthy lifestyle."
"The virtual sports program also provides an opportunity to demonstrate ADF's enduring partnership with Tonga's HMAF and to strengthen the values ​​shared by sport.