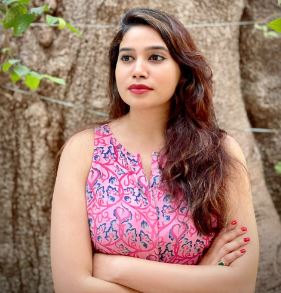 Relax your mind, body and soul with nutritionist Karishma Shah's various health and wellness programs
Our lifestyle and our health are two of the few things we can manage in these unprecedented times when we are all facing varied challenges. It is important to get professional help when illnesses occur frequently or when your unsuccessful weight loss attempts start to ruin your life. It may be a good idea to consult a nutritionist to learn more about foods and lifestyle choices that support your health goals. The people who guide us in modifying our diet to meet our daily nutritional needs are nutritionists. One such talented individual is integrative nutritionist and holistic wellness coach, Karishma Shah. She has worked in the industry for many years and has helped thousands of her patients by guiding them in the right direction.
With the idea of ​​helping people achieve a healthy lifestyle, Karishma Shah started various programs. She has curated a unique program that helps anyone gain clarity, guidance, and actionable steps to achieve their health and life goals through psychological personality analysis. His realignment program is his exclusive creation which is a fusion of 3 aspects of body, mind and soul, which will enlighten, empower, rejuvenate, support and expand an individual's horizons in all dimensions of good -be. It gives learners a taste of how to support themselves physically, emotionally and spiritually.
Well-known nutritionist Karishma Shah also launched her own podcast, "Voice it with Karishma Shah" in 2021. The podcast will talk about prevalent medical conditions and how various treatment modalities and strategies can affect results. The show has seen medical professionals, doctors and trainers spark a remarkable revolution in the health and wellness industry through its podcast. She recently started the second season of the podcast following the success and positive feedback. Where she will invite young entrepreneurs and coaches and ask a few short questions regarding their impact on the fields of well-being, health and lifestyle. The goal is to educate the masses about this particular health and wellness activity. His podcast is available on audio streaming platforms like Spotify, Anchor and Jio Saavn. And, to enjoy it even more, you can even watch the vodcast on Youtube, Facebook and Instagram.
Not only a nutritionist, but Karishma is also a certified psychotherapist who has helped many young minds deal with mental illness issues. She believes that in order to have a healthy lifestyle, it is important to take care of mental health as well. Many people visit her who suffer from anxiety, depression, or any other mental well-being issue. And through her nutrition program, she has helped them fight these signs and maintain a healthy lifestyle that includes the whole body, mind and soul. Her weight loss program takes a holistic approach. It includes personalized meal planning, coaching and counseling on emotional and mental stability, nutrition education sessions, exercise routine, personal growth and spiritual awakening.
Among women of all ages with hormonal abnormalities, including teenage girls, Karishma's PCOS and Thyroid program is highly regarded. These programs take a 360-degree perspective and focus on the four pillars of health: good sleep, balanced nutrition, emotional cleansing, and physical activity. She also helps couples with infertility issues and provides advice on fertility issues, preconception, pregnancy and post-pregnancy, while guiding them through the process according to their individual needs. The next big thing for Karishma would be a program on parents and children, which is also one of her dream projects. It would focus on parenting techniques, including how parents can understand the conduct of their offspring and recognize their true talents. It would be interesting to see how she rolls out her various programs in the future and how people get the most out of them. You can follow her on Instagram @karishmashahnutrition or visit: https://karishmashahnutrition.com/