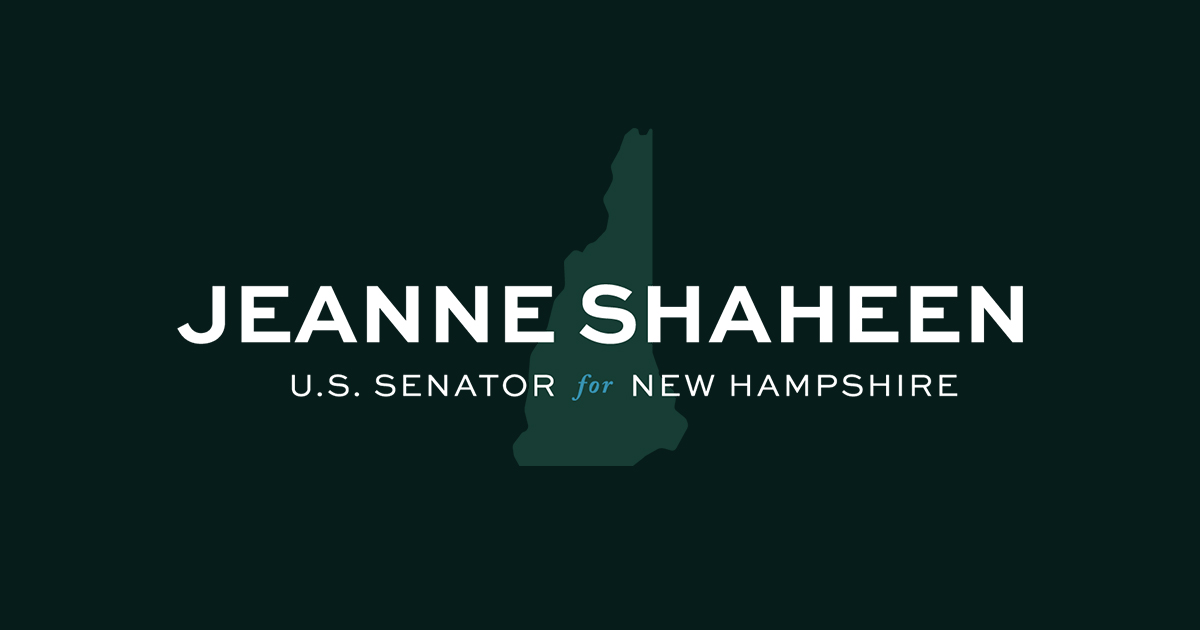 Shaheen announces $2.2 million for community health projects
October 07, 2022
(Washington, DC) – US Senator Jeanne Shaheen (D-NH), a senior member of the Senate Appropriations Committee, today announced that the Department of Health and Human Services will provide more than $2.2 million in federal grants to improve access to community health and support services in New Hampshire. This funding includes a $1 million grant for One Sky Community Services, a statewide support network for people with developmental disabilities or acquired brain disorders. The funding comes from a Congressional Directed Spending (CDS) request that Shaheen secured through the fiscal year (FY) 2022 omnibus package that passed earlier this year.
"I am thrilled to share that more than $2.2 million in federal grants is coming to our state to improve access to health services for New Hampshire families. I am especially thrilled to see the million dollar grant I have secured for One Sky Community Services to help hundreds of people living with developmental disabilities or acquired brain disorders," said Senator Shaheen. "As Senior Appropriator, I will always fight to ensure that New Hampshire receives the federal funds it needs to support strong public health infrastructure for Granite State communities."
"Housing for people diagnosed with intellectual and developmental disabilities is in critical condition in NH, forcing residents to live out of state to receive the care they need," said Matthew Cordaro, CEO of One Sky Community Services, Inc. "The $1 million in funding Senator Jeanne Shaheen secured for our most vulnerable residents is an investment in our community that will reunite some of our NH families with their loved ones and provide ongoing careers of well-paying care and support. ."
The Department of Health and Human Services recently announced four Shaheen-led community health projects, including:
$1 million for One Sky community servicesone of 10 New Hampshire regional agencies for people with developmental disabilities and traumatic brain injuries, to build a residential facility with 24/7 care for six people with developmental disabilities in Northwood.
$750,000 for the YWCA of New Hampshire to enhance its innovative Adverse Child Experiences Response Team (ACERT), which uses a multidisciplinary approach to address the immediate needs of children and families exposed to trauma. The proposed project would expand ACERT to ten additional New Hampshire communities, expand services to include more culturally appropriate offerings, and streamline training for all ACERT partners to include thematic areas of diversity, equity and of inclusion. Shaheen is leading legislation in the US Senate that would launch nationwide ACERT programs, which are being piloted in New Hampshire.
$350,000 for the TLC Family Resource Center to expand their current services around negative childhood experiences (ACE) to better integrate family strengthening and peer recovery strategies that address the impact of substance use disorder (SUD) on child outcomes. Residents who will be served by this project include children, youth and families living in Sullivan County and the surrounding area.
$120,000 for the National Alliance on Mental Illness (NAMI) New Hampshire supporting families and caregivers raising children, youth and young adults with severe emotional disorders (SED) as they engage in transformational system change; improve their leadership skills and knowledge; connect with other families to reduce feelings of isolation; and have access to promising practices offered by family and caregiver peers, including an established and sustainable family peer support program.
As a senior member of the Senate Appropriations Committee, Shaheen helped secure $69,047,000 for projects throughout New Hampshire through the CDS process in the enacted 22-year legislation. Shaheen recently announced more than $89 million in CDS awards she earned in the FY23 Senate Democrats government funding proposal for 95 New Hampshire projects, including water infrastructure, investments in healthcare facilities, educational training, resources to address homelessness and food insecurity, support for substance use disorder programs and much more.
###
---
---
Previous post