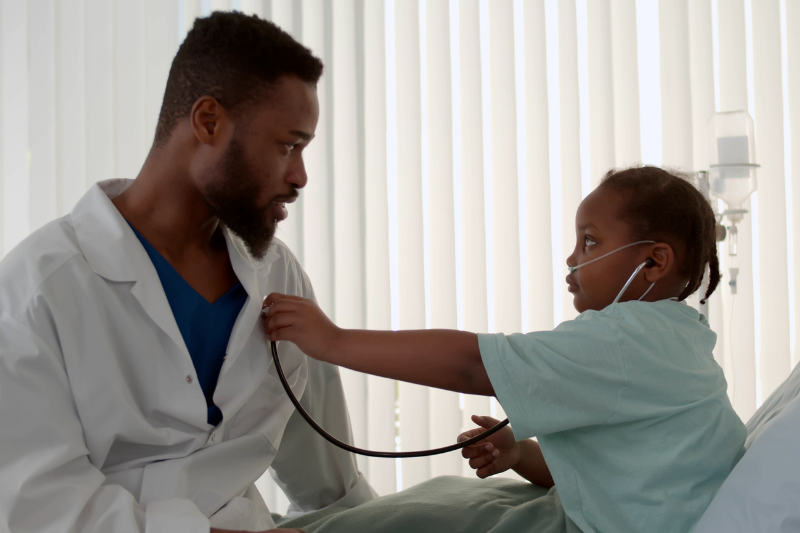 Sickle cell disease highlights health care inequities in minority communities –
About one in 13 black or African-American children is born with the sickle cell trait, and at least three million mostly black Americans live with the trait.
BY YOLANDA GOODLOE COWART, Donor
With the prevalence of sickle cell disease (SCD) and the way it ravages minority communities, it is shocking how little attention is given to it. The reckless way in which the disease is being managed is so extreme that the CDC doesn't even know the exact number of people living with it in the United States. The estimate is approx. 100,000 Americans.
Worse still, a survey of 1,042 practicing physicians who are members of the Council of Academic Organizations of Family Medicine showed that only one in five was comfortable treating patients with sickle cell disease, and less than half were comfortable with patient pain management. Know the disturbing racial prejudice in the American medical field regarding black people and their pain threshold, these statistics do not bode well for the thousands of people with SCD.
Sickle cell disease and its impact on the black community
Discovered over 115 years ago, evidence shows that SCD is an evolution of the human body to guard against malaria (another deadly disease found in countries along the equator). SCD is a disease where the red blood cells are sickle-shaped and rigid. These sickle-shaped cells are fragile and break down faster than the body can replace them, causing anemia in patients.
To have SCD, both parents must have the sickle cell trait. A person with the trait may be completely healthy and have no problems associated with SCD at all. If both parents have the trait, each child has a 25% chance of contracting the disease. About one in 13 black or African American children is born with the trait and at least three million americansmostly black, live with the trait.
People with SCD have episodes or attacks of debilitating pain where many sickle cells damage and block blood vessels, making it difficult for normal blood to flow. Usually triggered by infection, fatigue, unusual stress, overexertion, or even high altitude, an episode or attack of sickle cell pain causes severe pain and may require medical attention.
As one can imagine, clogged blood vessels can damage different organs and lead to other health issues such as leg ulcers, strokes, and increased risk of infection.
Although SCD can affect people of any race or ethnicity, black Americans make up more than 80% of people with the disease. In 2009, estimates showed that 8,374 to 14,236 African Americans were living with the disease in Florida, and 52% of these patients were women.
Equally concerning is the large number of people who have the sickle cell trait but don't know it. It is estimated that between 2.5 and 3 million people in the United States have the trait.
Health Inequalities in Black Communities
Racial biases in the healthcare system that negatively affect African Americans are not news. Many still remember the Tuskegee Experience, a 39-year ordeal that ended in the 1970s. More recently, stories like the ordeals Serena Williams and Dr. Susan Moore endured cannot easily be ignored or forgotten.
Williams, a world-renowned tennis champion, requested a CT scan with contrast and IV heparin (a blood thinner) when she was struggling to breathe after giving birth, but an ultrasound of her legs was done instead. The nurse, whom Williams alerted to her symptoms, thought the painkillers she was taking were making her confused.
Dr Susan Moore, herself a doctor who was being treated for coronavirus, was told by the doctor in charge of her care that he did not feel "comfortable" giving her more narcotics. Despite Dr. Moore's knowledge of complicated medical terminology and treatment protocols, she felt like an addict in her illness and hour of pain.
These experiences and many more have given the African-American community a healthy distrust of the medical profession. A poll conducted by the Kaiser Family Foundation and The Undefeated found that only six in 10 black adults trust doctors to do the right thing most of the time.
Twenty-one percent of Black people surveyed said they find it somewhat to very difficult to find a doctor who treats them with dignity and respect. Seventy percent felt the health care system treated people unfairly because of their race or ethnicity.
Imagine battling a blood disease that isn't as popular as hemophilia and cystic fibrosis and is prevalent among blacks and other minority groups. Think about the challenges you will face trying to get treatment for an episode of pain or a crisis characteristic of this disorder from a health care system that you don't trust and that suspects people like you when they ask. painkillers. How would this impact your care?
If you thought this would make doctors suspect you were a drug addict, you'd be right. National Heart, Lung, and Blood Institute guidelines recommend that SCD victims be given pain medication within 60 minutes of arriving at the emergency department.
Unfortunately, patients with SCD experience longer wait times to see a doctor when they arrive at the ER than other chronically ill patients due to stigma, even though SCD patients suffer from greater pain and are a higher priority during triage.
Another challenge is the predictable high level of health care SCD management cost. On average, it costs about $10,000 per year to treat children and about $30,000 to treat adults for sickle cell complications such as pain episodes/attacks, organ damage, and stroke.
In 2019, the FDA has approved two new treatments, the first in 20 years, for SCD – Adakveo (crizanlizumab) and Oxbryta (voxelotor). Both are lifetime drugs that cost around $100,000 a year. This is almost double the median US family income ($67,521 in 2020), where the median net worth of a black household is approximately $24,000.
Well, what about health insurance, you might ask? It could help people pay for the cost of this potentially life-saving treatment, right? Unfortunately, due to high unemployment rates (8.6%) in the black community and low representation in jobs that offer health insurance to employees, 11.8% of black Americans do not have access to health insurance.
What can we do to help our community that suffers from these health problems?
Sickle Cell Advocate Fights Health Inequalities
Although much more needs to be done to address inequalities in health care in general and sickle cell disease in particular, some progress has already been made. U.S. Representative and Florida gubernatorial candidate Charlie Crist and Mary Murph, president and founder of the Sickle Cell Disease Association of America (SCDAA), are at the forefront of the fight for increased funding and support for those fighting the SCD in Florida.
Crist filed an invoice called Sickle Cell Care Expansion Act improve access to care for adults with sickle cell disease. The bill will set aside $200 million a year from 2023 to 2028, mostly in grants and loan relief for hematologists (and those studying to become hematologists).
Almost 25% of the funds would be used as grants for sickle cell disease education and advocacy. Supported by the Black Women's Health Imperative and the American Society of Hematology, the bill was referred to the House Committee on Energy and Commerce. Although the bill has not yet been introduced in the House, Charlie Crist is optimistic that it will pass before the end of his term.
Murph has been a sickle cell disease advocate for 50 years. By supporting her two daughters with SCD through more than 150 hospitalizations, five hip replacement surgeries, two gallbladder surgeries, and more, she has made her intimately aware of the challenges facing the African American community. to access treatment for this disease. Despite losing one of her daughters to the disease, Murph is unflinching in her fight to propel the search for a cure.
Her difficult experience with SCD allowed her to see firsthand how poorly local hospitals treat SCD patients in St. Petersburg. She also witnessed the poor patient care for those suffering from SCD.
As a result, Murph has made it his mission to advocate for a sickle cell unit as part of the newly planned expansion of Moffitt Cancer Center in St. Petersburg.
If Congress passes the Sickle Cell Care Expansion Act, millions of dollars a year will be available to treat sickle cell patients. This funding could allow the Moffitt Cancer Center, which will sit between Johns Hopkins All Children's Hospital and the University of South Florida in St. Petersburg, to better treat patients with sickle cell disease.
The proposed 75,000 square foot medical building will be large enough to accommodate 8,000 patients per year. Moffitt COO Sabi Singh said the center's goal is to bring the best care closer to home. The inclusion of a sickle cell unit will do just that for the many people battling SCD in the Tampa Bay area.
Many members of the African-American community have long managed sickle cell disease with little support and much suspicion. These initiatives, the Sickle Cell Care Expansion Act and a sickle cell unit at the Moffitt Cancer Center in St. Petersburg, will help raise awareness of the disease, support hematologists and provide better health care for patients.
Yolanda Goodloe Cowart is an author, small business advocate, civil rights activist and human rights defender in St. Petersburg-Clearwater.


Post views:
50