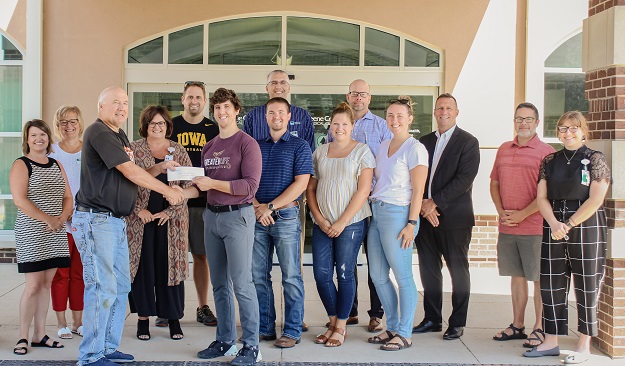 The medical center foundation supports the Bell Tower Festival
The Greene County Medical Center Foundation held its annual golf fundraiser on Friday, June 10 at the Jefferson Community Golf Course in conjunction with the Bell Tower Festival. Special games and $150 prizes were awarded, in keeping with the theme of celebrating 150 years of Jefferson.
"We were delighted to run our tournament in conjunction with the Bell Tower Festival for the first time this year, helping to organize an event for locals and people who come to the festival, as well as medical center partners and suppliers. ", said Nancy Houska, Director of the Foundation. "Working with the Bell Tower Festival committee this spring, we have made a commitment to donate to the festival to help kick-start funds for their festival each year. We saw the combination of efforts as a win-win situation for the festival, the medical vendor and, therefore, the patients we serve. »
The tournament started at 9:00 a.m. with a 4-person team format and ended mid-afternoon, allowing golfers to enjoy the Bell Tower festivities on Friday afternoon and evening. The event held a "Give and Take a Stroke" game, as part of fundraising efforts. Teams bought a shot to take off their game or add a shot to a different team. Many shots were bought with friendly competition between the teams to earn their place to end the day with the final low score. Home State Bank was the championship winner, with a special mention to Complete Insurance for being the team that received the most knocks from its competitors. Midland Power Company won the 2nd vol.
Funds raised through the Foundation over the past year help purchase equipment for the new Pain Clinic, an additional AED in the clinic that is used if someone experiences sudden cardiac arrest, pediatric supplies and more. Foundation funds also provide health care scholarships to local high school students pursuing medical careers. The annual fundraiser helps the medical center pursue its vision of being Always there, always caring.
Aramark, Drees Co., Home State Bank, Iowa Hospital Association, Jefferson Hy-Vee, Jefferson Telecom, Lutz Accounting, SCP Health, UnityPoint Health Des Moines and Wild Rose Casino were major sponsors this year. Twenty-one teams and 84 golfers participated in the event.
Next year's event will take place on Friday, June 9, 2023. More information about the event is at www.gcmchealth.com/golf.