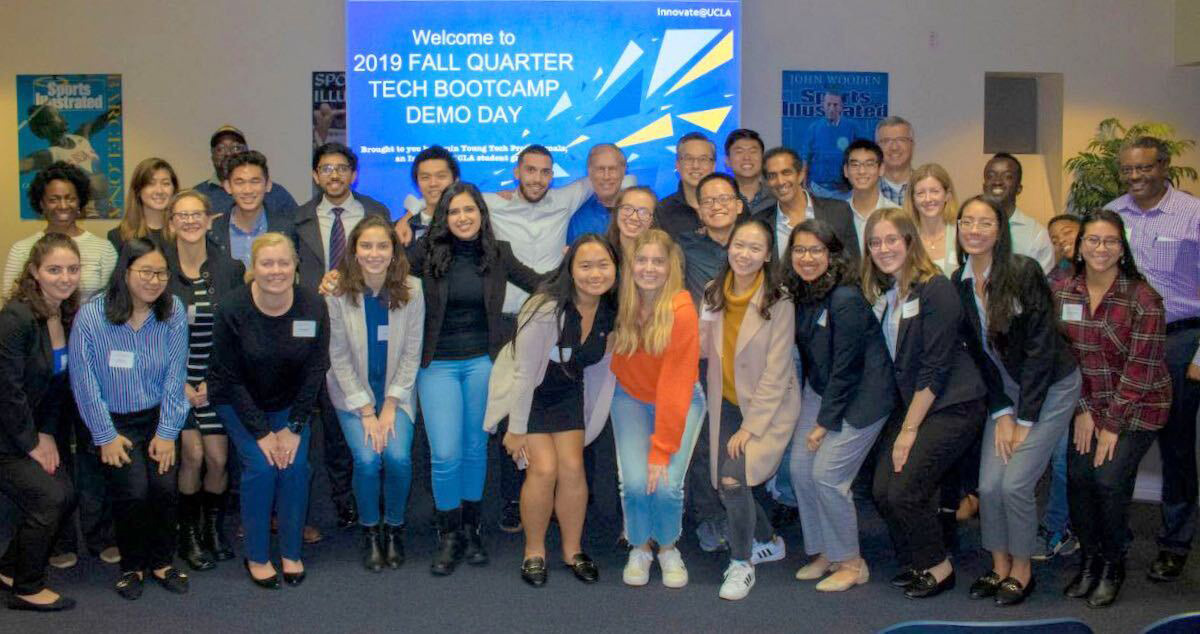 UCLA Technology Program Becomes Official Course and Focuses on Problem-Solving Skills
A tech entrepreneurship boot camp recently became an official course at UCLA after four years of operating as an informal program.
The course, Engineering 170: "Project-Based Technology Bootcamp for Social Impact," was originally inspired by students in 2017, said Raffi Simonian, senior program manager at the Office of Advanced Research Computing and instructor. of Engineering 170. A major goal of the course is to equip students with the skills they would need as future entrepreneurs in the tech industry, he said.
Simonian said boot camp differs from other courses at the university because it exposes students to tasks and issues that arise in the tech workplace.
"I don't see it as an academic program, it's more of a skill building," Simonian said. "Eventually, education will be based on skills rather than degrees."
Students in the class develop pitches focused on finding a solution to a social problem with a technology idea or product, ranging from civic issues to health issues, Simonian said. At the start of term, students are divided into teams based on the social orientation of their presentation, he added. He said each team has its own industry coach who works in technology and helps guide students through their projects.
During the first six weeks of term, students listen to guest speakers present on a topic related to the tech industry and startups, sharing knowledge on topics such as design and project management, Simonian said. At the end of term, students present their ideas and are evaluated on how well they incorporate ideas from guest lecturers' lessons, Simonian added.
At the demo day, held at the end of term, Simonian said five technology professionals came to listen to student presentations and assess how effectively they applied their learning to their work. project. It aims to accommodate a mix of private and public sector judges and also tries to involve UCLA alumni in the process.
[Related: LA-area high school students compete in UCLA's 1st ideathon for health technology]
Third-year human biology and society student Emily Noronha said the boot camp was more like internships and other extracurricular programs she had taken than her other classes.
She said she appreciates that the class format gives students the opportunity to truly network with individuals in the tech industry, which isn't always possible with the competition of a formal recruiting environment.
The training camp has doubled in size since its inception in 2018, Simonian said.
At the start of the program, 44 students applied and 24 were accepted and split into three teams, Simonian said. Applications have increased to 250 students in recent cycles, and there are now six teams with 48 students in total, he added.
Looking ahead, Simonian said he hopes to secure private grants to fund the program, continue to grow it, and eventually partner with different companies — such as Sony, Disney and Amazon — to use Engineering 170 as a recruiting tool. .
The current coaches are volunteers, Simonian said, adding that most of them became interested in coaching the students after attending previous demo day presentations.
"I was really impressed with the ingenuity and intelligence of the groups," said Behrang Abadi, one of the industry coaches and head of the City of Long Beach's technology office.
Abadi said he sees his role as a coach as a bridge between the academic intelligence and the practical skills of the students.
Andrew Johnson, director of source-to-pay systems at Sony, said the students in the class had unique approaches to modern issues.
"Students work differently than most of the professionals I work with in my day-to-day work," Johnson said. "It's a talent that you don't really see when you go to LinkedIn."
Sumita Jonak, CEO and founder of Nurlabs – an early cancer diagnosis company – is the health technology group coach. Jonak, an alumnus of the UCLA Anderson School of Management, echoed Johnson's appreciation for student creativity.
"It gives me so much hope for the next generation of scientific achievement," Jonak said.