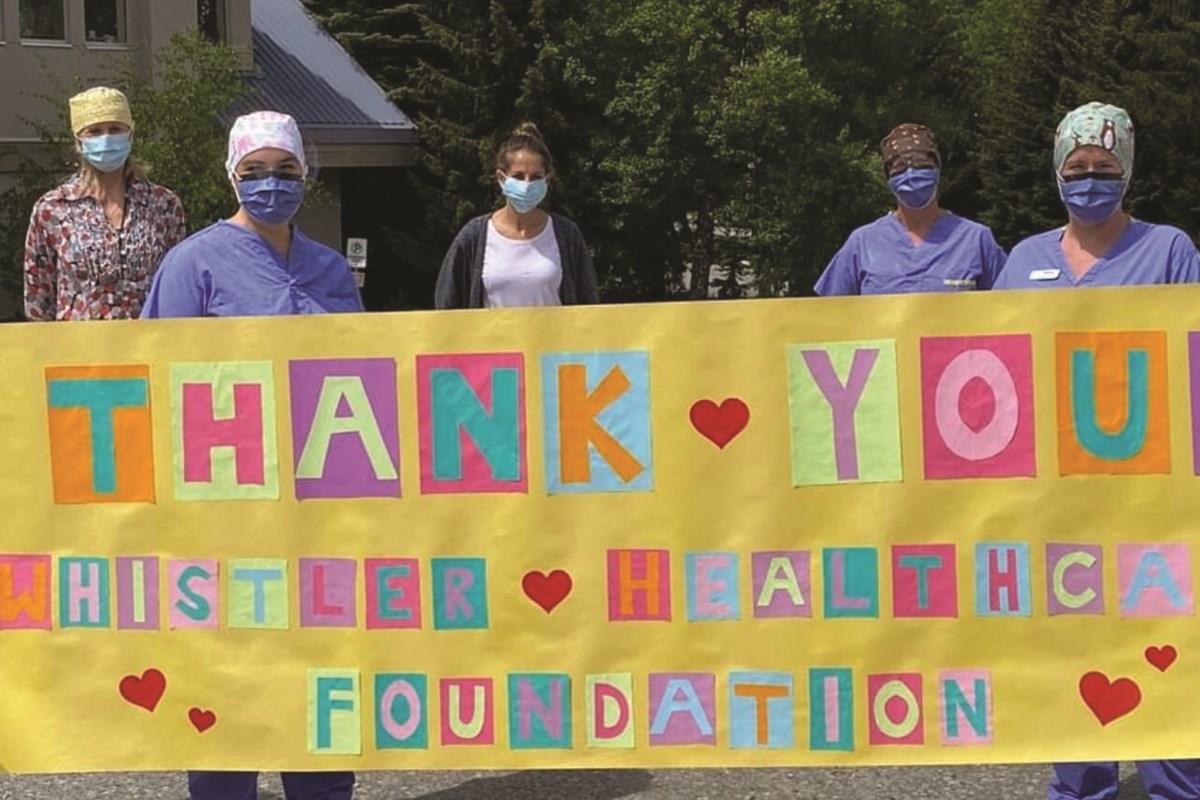 Whistler Health Care Foundation Launches Grants Program
[ad_1]
Grants of up to $ 10,000 are available for any Sea to Sky nonprofit with healthcare related initiatives
A little after Moving to the resort last December, David Goudge had a little snag with a knife he had just bought.
"I decided to try and cut my finger," he jokes. "It was a brand new, incredibly sharp knife, so this was my first encounter with the Whistler Emergency Clinic, and they were awesome. From the receptionist to the nurses to the doctor, everyone was remarkably good at what they did. I am so grateful that they are there.
It was this relatively routine procedure that planted a seed in Goudge that ultimately led her family foundation to donate to the Whistler Health Care Foundation (WHCF) for their new grant funding program. With seed funding of $ 50,000 from the Goudge Family Foundation, the WHCF is now seeking grants of up to $ 10,000 each for healthcare-related projects and initiatives benefiting Sea to Sky.
"Historically, the foundation was started to really support the [Whistler] Healthcare center, but a few years ago we broadened that mandate to support anything in the corridor, "said Carol Leacy, WHCF board chair. "But we realized that a lot of our funding still goes through Vancouver Coastal Health (VCH), to the hospital and so on, so we know we are able to support more than that, but no one else is. really asked. So we thought, "Why don't we create this program and proactively reach out to the community? ""
Eligibility for the grants goes beyond what most would consider traditional healthcare initiatives, Leacy noted.
"So things like, say, [Whistler] Search and rescue, who needed a defibrillator. It's very much part of our fundraising mandate, but we've really never had such people contacting us before. With mental health initiatives and counseling programs, for example, they might be looking for funding, but may not be thinking of us. "
All Sea to Sky nonprofit groups with healthcare related initiatives are encouraged to apply. The application window opens on December 1, with a deadline of January 15, 2022. Application forms and additional program information are available at Whistlerhealthcarefoundation.org.
Established in 1994, WHCF is a non-profit organization that has raised over $ 4 million and founded over 26 different projects during that time, including reaching a fundraising goal of $ 1, $ 5 million for the long-awaited Whistler Health Care Center Trauma Upgrade. room.
More recently, the foundation set its sights on its most ambitious project to date: a community-run, non-profit primary care center aimed at improving accessibility for physicians in the resort and providing a model of care. more holistic which would include general practitioners, nurse practitioners, counselors and a range of other health professionals under one roof.
The centre's vision would see it either co-located within the existing Whistler Healthcare Center, a refurbished center, or as a stand-alone facility nearby, using existing laboratory and imaging services and easily accessible from the village.
Currently, the Whistler 360 Collaborative Health Society formed to manage the center is seeking charitable status to enable it to apply for a grant. In the meantime, Leacy said discussions are underway with VCH and the BC Ministry of Health to bring additional nurse practitioners and social workers into the community.
The WHCF also oversees the recently launched Rob Burgess Primary Care Fund named after the longtime local physician, chief medical officer and co-founder of the Whistler Medical Clinic, who died in September after a short battle with cancer. The fund is dedicated to supporting primary care initiatives in the corridor.
Leacy said the fund has been given a tremendous welcome since Burgess passed away two and a half months ago.
"I don't know the exact numbers, but we have received several larger donations which have been fantastic. We hope this will be a good seed fund to launch primary care initiatives for the future, "she said.
[ad_2]